new Delhi

A prepaid plan giving long validity has been discontinued by the telecom company Airtel. Till now the company was offering a plan of Rs 2,398 to the users, in which 1.5 GB high speed data was available daily. This plan has been discontinued and this plan has also been removed from the listing on Airtel's website.
The listing on Bharti Airtel's website states that the company's Truly Unlimited Annual Pack has now been discontinued. This pack of Airtel used to come with daily data benefits and 1.5 GB of data was available daily in this plan. The price of this plan was Rs 2,398 and it comes with 365 days validity. In this way, more than 500 GB of data was available throughout the year.
These benefits used to meet

Apart from the daily high speed data, additional benefits were also being offered in it. With this plan introduced in May, a 1-year access to Shaw Academy, Airtel Xstream Premium and Wynk Music subscriptions, free Halotunes and a cashback of Rs 150 on FASTAG were also available as benefits. The plan also offered unlimited calling.
Read: Chinese app banned, this is the best Indian app for everything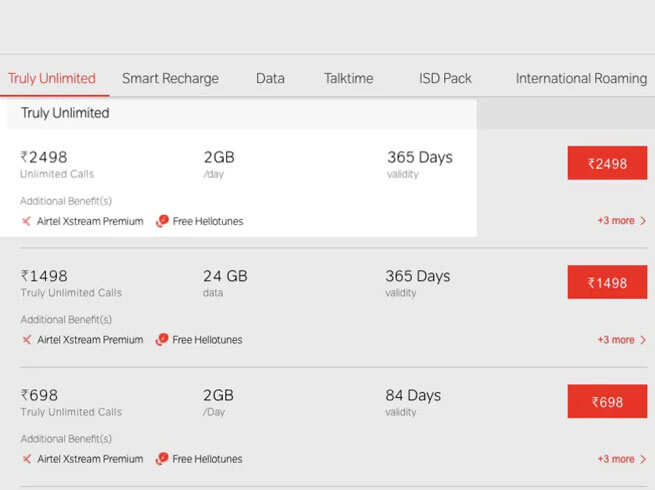 Photo: Airtel
These plans will save option

The closure of the annual plan of Airtel means that for long validity plans, users have to be recharged from Rs 1,498 or Rs 2,498 plan. The plan priced at Rs 1,498 is the voice benefits centric, so users have to choose another higher priced plan of Rs 2,498, which offers 2GB data daily.
Read: Only 5 easy tips, will increase your phone's battery life
Plans can be expensive

Airtel will benefit from closing the old plan and the average revenue per user (ARPU) is set to increase. The company is also making additional changes in the remaining plans. Apart from this, if market analysts believe, prepaid plans of all companies can be expensive in the coming days.