Telecom companies keep bringing new plans and offers to woo users. In this episode Airtel Has introduced a new prepaid recharge plan of Rs 179. Life insurance is also being provided by Bharti AXA along with free SMS, data and calling in the plan. Earlier too, Airtel has introduced some plans in which insurance of 4 lakh rupees is being offered to the users. For the time being, let us know what is special in Airtel Rs 179 plan.
Benefit available in Rs 179 plan
Airtel has introduced a plan of Rs 179 on January 19 today. Talking about the benefits received in the plan, users are being offered a life insurance of Rs 2 lakh by Bharti AXA. In this plan, which comes with a validity of 28 days, unlimited free calling is being given for any network. As far as data is concerned, a total of 2 GB of data is being given for the entire validity period. 300 free SMS are also available in the plan. Talking about other benefits found in the plan, Airtel Extreme App and Wink Music are also being given free subscription.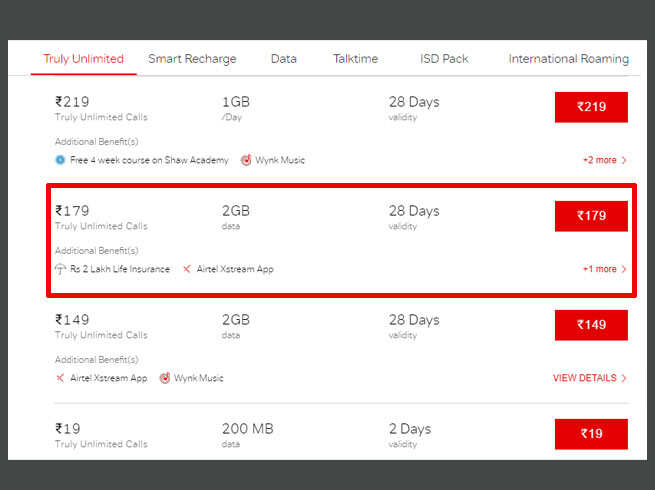 Airtel's new plan
Policy will be available immediately
Life insurance of 2 lakhs is available for users between 18 and 54 years of age. No paperwork or medical test is required for insurance. The insurance policy will be available to users in digital form immediately after recharge. If the user needs a physical copy of the policy, then it will be made available on request. This entire process can be completed in a few minutes from the Airtel Retail Store or Airtel Thanks App.
Life insurance in Rs 279 plan
Airtel is giving Rs 4 lakh life insurance to users with a prepaid plan of Rs 279. With this plan, which comes with a validity of 28 days, 1.5 GB data and 100 free SMS are being offered daily. Unlimited free calling is being given for any network in the plan. Additional benefits available on the plan include free subscription to Wink Music and Airtel Extreme App Premium. Not only this, users who subscribe to this plan will also get a cashback of Rs 150 on the purchase of FASTag.