Bollywood actor Arjun Kapoor is constantly active on social media. Sometimes, because of his photos or some post, sometimes he makes such a comment on a post of a star that Arjun would get engrossed in the discussion. By the way, he also enjoys pulling the legs of stars on social media, a fresh example is in front of us.
After Alia Bhatt, Katrina Kaif and Deepika, now it's Anushka Sharma, who has come under target of Arjun because of her Instagram post. Actually, Anushka Sharma posted some candid photos on Instagram. In these candid photos, she is seen sitting in her balcony, in which a beautiful view of her apartment is also seen.
Although the fans were immersed in the beauty of this picture, but seeing these pictures in Arjun's mind, something came about that no one had even thought about. Seeing Anushka's picture, Arjun wrote, 'Dry cleaning mashAllah of socks is awesome !!!'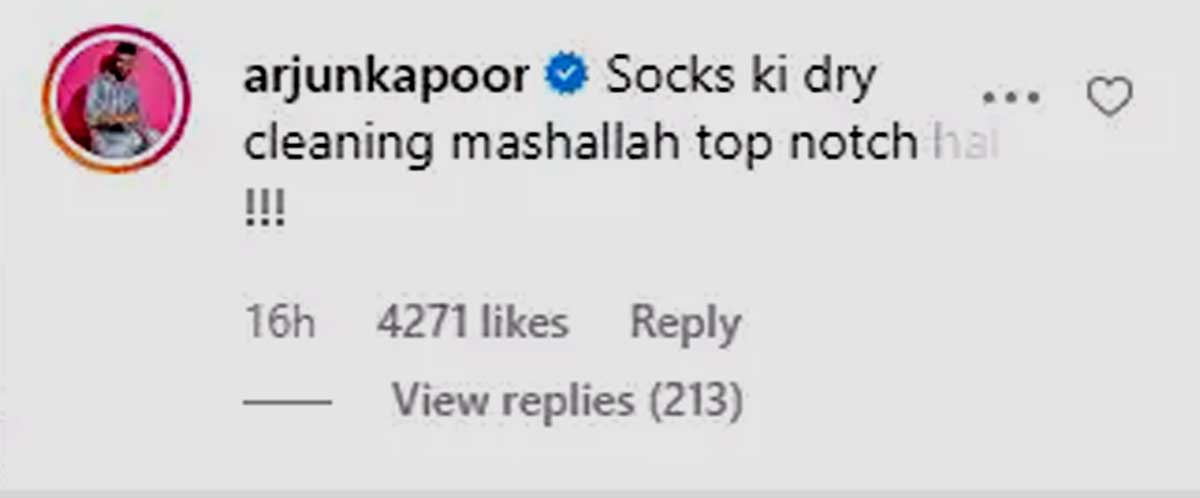 Recently, Anushka Sharma has been in great discussion about her next film. Anushka's film was recently announced. In this round of cricketers' biopic, she will be seen in the biopic on former captain of the Indian women's cricket team, Jhulan Goswami. Anushka has started shooting for the film, the pictures of which were very popular on the internet. Recently Anushka Sharma gave a shot for the film's teaser at the Eden Gardens in Kolkata. During this time, the actress was wearing the dress of the Indian cricket team and her running style is going viral on the internet. The actress took tips from the former female cricketer before the teaser shoot. The shoot will be used for the teaser of the film.
Talking about the workfront, Arjun is busy shooting for his next film, in which Rakul Preet will also be seen with him. The name of the film is not fixed yet, but Arjun had informed about this by posting his collage picture with the actress on Instagram. By the way, these days Arjun Kapoor is more in the news about his relationship with Malaika Arora. Anushka Sharma married cricketer Virat Kohli in 2017, after which her film 'Zero' was released at the end of 2018. Apart from Anushka, Katrina Kaif also appeared in this film along with Shahrukh Khan. After the release of 'Zero', Anushka took a break so that she could enjoy her married life.