Google Today Doodle Well-known poets, lyricists and activists of India through Kaifi Azmi Is celebrating the 101st birth anniversary of Kaifi Azmi is known as the most famous poet of the 20th century. The doodle features Kaifi Azmi speaking on the mic. Apart from poems, he also wrote songs and screenplays of Hindi films. He was also honored with several awards for his unprecedented contribution in the field of literature.
Padma Shri and Filmfare Awards
Apart from being a poet, Kaifi also wrote songs in Indian films. The patriotic song written by him "Kar Chale Hum Fida, Jaan-O-Tan Saathi" still looks new today. He was awarded the Filmfare Award thrice for his contribution to films. Along with this, the Government of India gave him the Padma Shri award for his work. Not only this, he has also been awarded the Sahitya Akademi Fellowship, the highest literary honor of the country.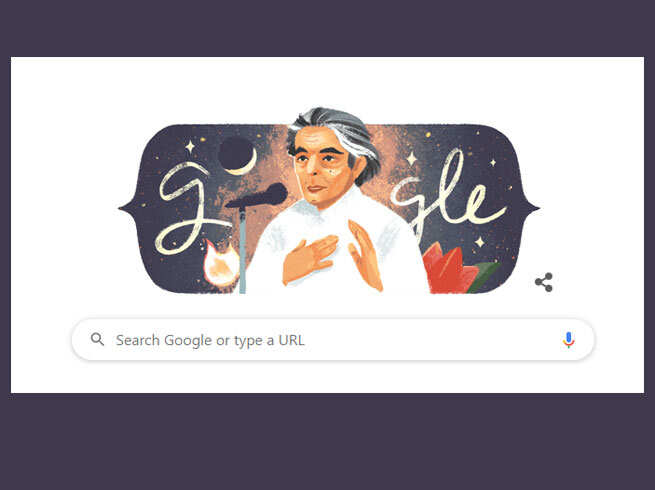 Kaifi Azmi
Become a member of the Progressive Writers Association
Kaifi Azmi's first book 'Jhankar' was published in the year 1943. Many of his magnificent poems are present in it. This book gave him a new identity and he became a member of the influential Progressive Writers Association. 'Woman' is most commonly mentioned in Kaifi's famous poems. In this poem she spoke about women empowerment. Kaifi also formed an NGO for the better life of women, educating women and putting them on their feet.
The first poem written at the age of 11
Kaifi Azmi was born on 14 January 1919 in Azamgarh, Uttar Pradesh. Kaifi's real name was Akhtar Hussain Rizvi. Since childhood, he was very fond of writing and reading. He wrote his first poem at the age of 11. Very few people know that Kaifi Azmi was the father of India's famous actress Shabana Azmi. Kaifi Azmi died on 10 May 2002 in Mumbai.