new Delhi

In the midst of the Corona crisis, the smartphone industry is facing a lot of difficulties. The supply of smartphones has also been affected, due to which the prices of some phones have also increased. Meanwhile, a special smartphone of Honor is selling at more than twice its original price. However, the reason for the sudden rise in the price of this smartphone is probably somewhat different. This smartphone is Honor Play 4 Pro. This phone of Honor is currently available at a premium high-end level.


Original price is around Rs 31,900

This 5G smartphone from Honor is available on eBay in the US for $ 999 (about 75,500 rupees). The price of this smartphone in China is 2,999 yuan (about $ 423 or Rs 31,900). Apple's iPhone 11 Pro can be purchased at this price. Honor launched its smartphone Honor Play 4 Pro in China earlier this month with a special feature. However, the special feature of this phone is not its camera or processor.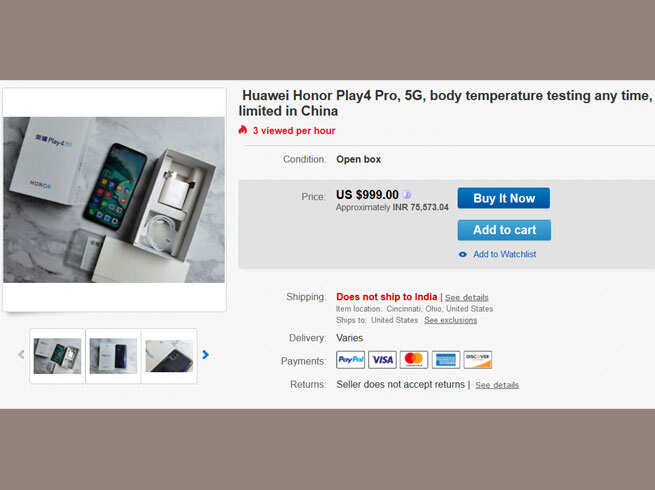 Getting phone on eBay for $ 999 (Rs 75,400)
Sensor to tell temperature is installed in the phone

The special feature of this Honor smartphone is the non-contact IR temperature sensor. The temperature sensor given in the phone tells the temperature of people and things. This means that the temperature scanner machine is built in the Honor Play 4 Pro smartphone. This feature of the phone is proving to be quite useful among the Corona Crisis. To get the temperature, users have to keep the phone close to their body. This phone of Honor has a 6.57 inch display. The phone has 8GB of RAM and 128GB of storage.
2 cameras for selfie in the front of the phone

The front of the phone has 2 cameras for selfie. The front has 32 megapixels and 8 megapixel camera. At the same time, 40 megapixels and 8 megapixel cameras have been provided in the back of the phone. This phone of Honor has a battery of 4,200 mAh, which supports 40W fast charging.

Summary
Performance
HiSilicon kirin
Storage
128 GB
The camera
40 MP + 8 MP
The battery
4200 mAh
The display
6.57 "(16.69 cm)
RAM
8 GB