BollywoodActress simi Grewal ( Simi garewal ) Has given a statement on 3 terrorists caught in Delhi. After this statement, she is being trolled in social media. All users Simi Grewal They are saying good and bad. Simi Grewal wrote in her Twitter account asking questions, 'Bring the terrorists to Delhi. There is a bomb blast on Republic Day. Hundreds of people die. Muslims are overlaid and targeted. Was this the script? '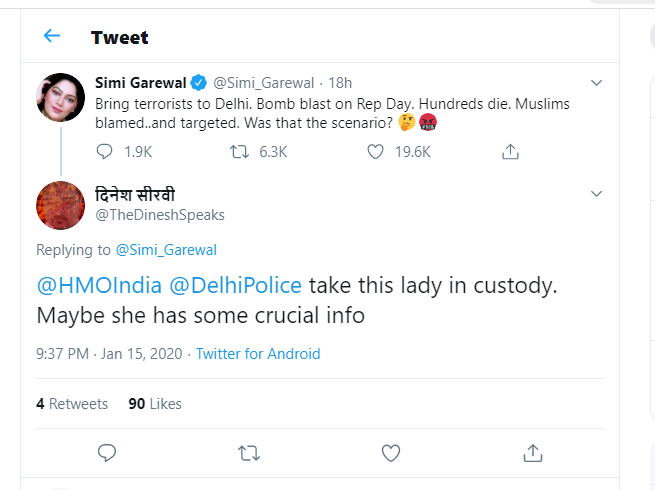 Following this tweet by Simri Grewal, a user has tagged the Ministry of Home Affairs and Delhi Police, demanding the arrest of the actress. At the same time, another user questioned whether his family had come as a refugee to India? Responding to this question of the user, Simi wrote that three generations of her family have been dedicated to the country. All three generations have been Army officers. He has served the country bravely.
Please tell, Delhi Police Commissioner Amulya Patnaik had a meeting with the Police Officers on Saturday, in this meeting, before Republic Day, they took up terrorist activities in the area of ​​the concerned officials. Took information about the efforts and antics against
Three terrorists have been caught in the capital Delhi before 26 January. Since then, Delhi Police has been alerted. It is reported that 3 ISIS militants were arrested. According to information received from police officials, the accused were absconding from Tamil Nadu. It is reported that these 3 terrorists have 3 more companions, who have fled to Nepal.
The accused have been accused of planning terror strikes in Delhi and western UP. 9 mm pistol was also seized from 2 of the captured terrorists. Simi has made her point in this entire matter. His post is being viewed as a satire and now he is being criticized. Some users have made so much sharp comments on him that in the end Simi openly told that three generations of his family have been devoted to the country.
Just before this, Simi Grewal came to know there after Deepika Padukone's JNU violence and also tweeted on Deepika's support in the subsequent uproar. Simi wrote in her tweet, 'Deepika Padukone, I appreciate your commitment and courage. You are a hero.