Japan's fashion tycoon Yusaku Maezawa has more than 20,000 girlfriend applications to go to the moon. On 12 January 2020, Yusaku brought out an open application, through which he was looking for a girlfriend to get closer to the moon. In 2023, he is looking for a female partner for Elon Musk's first commercial spaceflight of Project SpaceX. Yusaku will be the first person to travel close to the moon on a starship rocket.Who is Yusaku Maezawa
Yusaku Maezawa is the 18th richest person in Japan. In 2004, she launched a fashion website Zozotown. In the year 2018 Yusaku launched its ZoZo fashion range in 72 countries of the world.
Yusaku is looking for these qualities in a partner
The link takes viewers to a page taking applications, which will probably be a documentary for Japan's streaming site Abema TV. The documentary is titled 'Full Moon Lovers' It has been described as Yusaku Maezawa's serious matchmaking documentary. In the documentary Maezawa will search for a life-partner to travel to the moon with him. As far as eligibility for applicants is concerned, the age of the partner should be more than 20 years. Also, he should be interested in space travel and who wishes for world peace. Maezawa is 44 years old.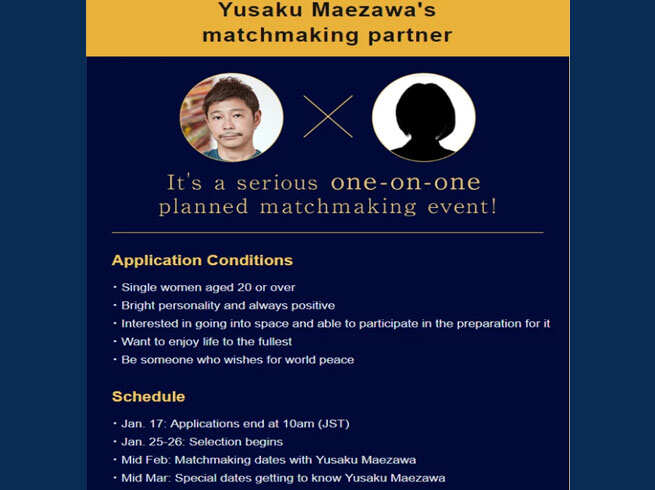 Photo- AbemaTV
Seat will be reserved for partner
Maezawa has purchased tickets for several of Spacecroft's seats and will invite 6-8 people to accompany him. Maezawa wants to reserve one of these seats for his romantic partner and will select the partner through a dedicated realty TV show. Maezawa tweeted a link to his 72 lakh followers on Sunday.
Will give gifts to followers
The last date for applications is 17 January. According to the website, Maezawa will select the partner by March this year. This is not the first unique announcement made by Maezawa on Twitter. Earlier this year, Maezawa announced an amount of $ 9 million to 1,000 followers for a social experiment. Maezawa resigned as CEO last year by selling a 30 percent stake in his online fashion company Zozo. Maezawa received an exit package of $ 2.3 billion. Maezawa said at the time that he left his post because of the 2023 moon flight.