Edited By Tarun Vats | | Updated: 22 Jul 2020, 03:47:00 PM IST
new Delhi

Irfan Pathan, former Team India fast bowler, praised England's all-rounder Ben Stokes. However, the reply given by Yuvraj Singh, former all-rounder of India to this, caught everyone's attention. Pathan tweeted that India also needs a man-winning (match-winning) all-rounder like Ben Stokes.
England all-rounder Stokes proved himself once again in the second match of the Test series against the West Indies. He scored 176 in the first innings of the match and an unbeaten 78 in the second innings. Not only that, he also took 3 wickets and was the man of the match. With this, Stokes achieved the ranking of the number-1 all-rounder in the ICC. Stokes became the first England player to reach number-1 in the ICC rankings after veteran Andrew Flintoff.
Pathan, 35, wrote, "If the Indian team has a match-winning player like Ben Stokes, it will be invincible anywhere in the world."
To this, Yuvraj replied, 'Are you saying that we do not have an all-rounder who is also a match winner?' He also produced a laughing emoji.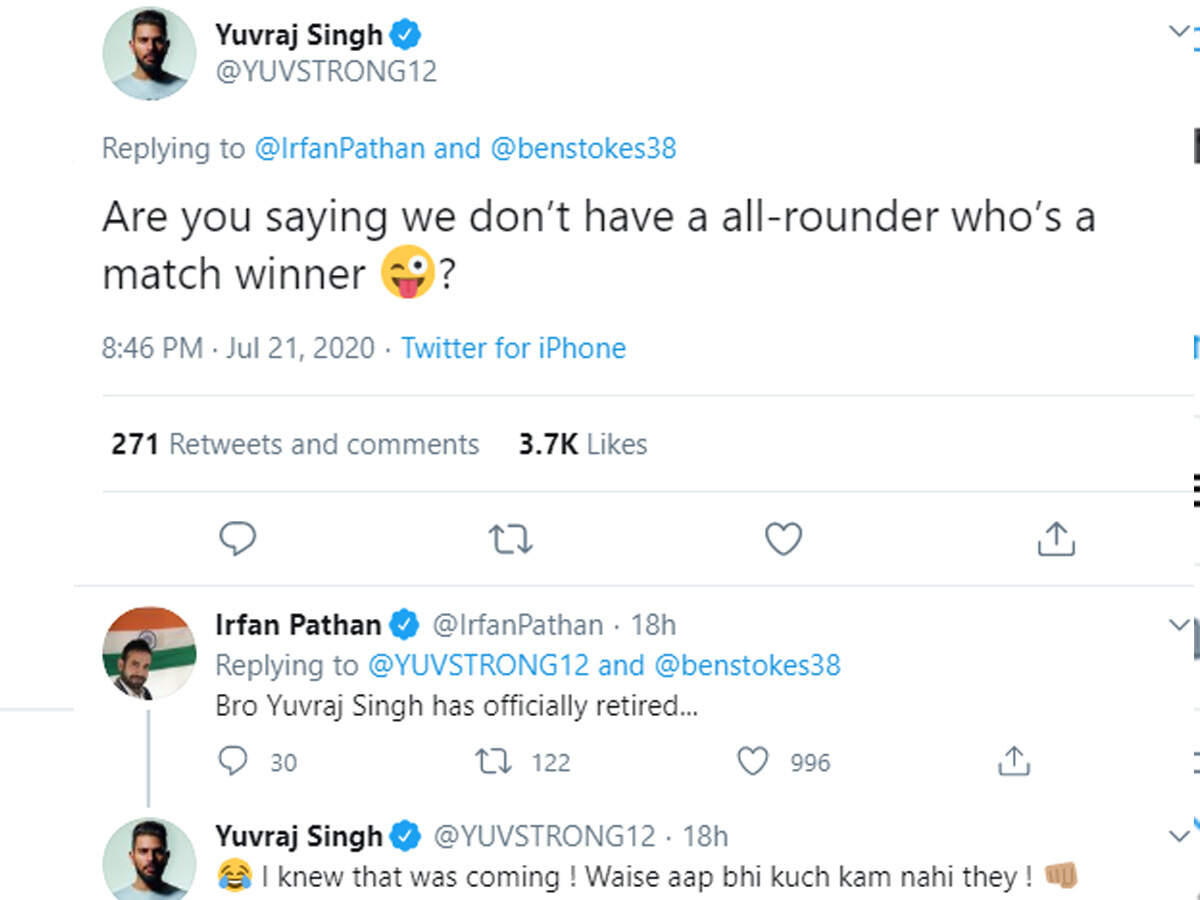 Pathan, who played 29 Tests, 120 ODIs and 24 T20 Internationals in his career, responded, "Bhai, Yuvraj Singh has officially retired." Then Yuvraj wrote, 'I knew this answer would come. By the way, you too were no less. Irfan then wrote, 'You know me well too.'
England defeated the West Indies by 113 runs in the second Test match to take 1-1 in the 3-match series. England declared their first innings by scoring 469 runs for 9 wickets, after which the Windies team was able to score 287 runs in their first innings. England declared the second innings by 129 runs for 3 wickets on the fifth day and the visiting team got a target of 312 runs. The Windies team managed only 198 runs in the second innings on the fifth and final day.

Irfan Pathan and Yuvraj Singh (file)